 Quiet as a Stone
Quiet as a Stone - Update 0.2.0
---
Quiet as a Stone v0.2.0 :)

Camera Movement : Changed the method by which the camera's focal position is moved. Now you use the primary control (LMB by default) to 'grab' an empty patch of land or rock and drag the camera's focal point around the scene. The photo camera also uses this point as the focal target.
Camera Zoom : The camera can now zoom out further.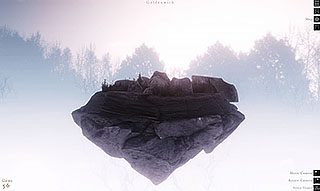 Stones : There are now a few more types of magical stone to find. Grass, Mist, Star, Ethereal and Light. There are also common stones which are just for throwing around.
The Map : Choose the next location to visit by opening the map screen. It has a button on the top right.
Music : Added first set of musical cues.
Gems : Renamed the pickup stones to "gems"
Explorer's Log : This is a toggle-able part of the UI which is added to when you open books or get a new context sensitive hint. When more books are added the Log will record those you have found in that play session.
Home : Added a home scene. The game always starts here. Currently it only contains a set of simple tutorial books.
Duplication : Items that are duplicated now retain the general scale of the source object.
Hints : Added context sensitive hints and tips. They appear in the Explorer's Log.
Enabled the Unity resolution settings window. At least until I can replace it with an in-game version.
UI now shows the context changing controls in the lower right corner.
Added some more variety to the locations.
Refined the light and FX of the day to night cycle.
The day is now a bit longer.
The 'E' key and 'spacebar' also act as right click action. Useful on laptop trackpads.
Cursor keys mirror behaviour of WASD keys.
Menu shows current in quality section FPS.
Plenty of bug fixes and general polishing.